Identify Diverse Candidates for your Projects
Join CAGC's commitment to a more diverse and inclusive workforce.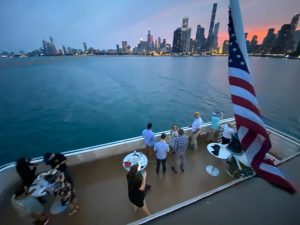 Construction Leadership Council
The Chicagoland AGC's Construction Leadership Council (CLC) is Chicago's largest group of young construction professionals. The CLC provides opportunities for the industry's rising leaders to increase involvement through various leadership development programs.

Coronavirus in Illinois
Chicagoland AGC wants to ensure all members have up to date information regarding the growing concern of Coronavirus in Illinois.

Safety First
The Chicagoland AGC is steadfast in its efforts to keep trades workers safe on the job.

Educating the Industry
Association members have the opportunity to attend a wide variety of educational offerings year round. We cultivate young learners at the high school and college level to encourage their involvement in the industry.
Welcome to Chicagoland AGC!
Chicagoland Associated General Contractors serves as the unified voice of the Chicagoland construction industry and empowers our members through labor and government relations, ongoing education, and business relationships. The Association is the local chapter of the AGC of America, the nation's largest and most effective voice for construction firms.
Chicagoland AGC has various opportunities to promote companies throughout the year. There are sponsorships for all events and Ad space in all forms of communication, including our website and app.
View Media Kit
HIRE360 is an innovative, cross-industry partnership designed to provide sustainable career opportunities for local residents and support women- and minority-owned businesses across the region.
Learn More
Political Action Committee
Giving our member businesses a unified voice supporting construction-friendly policies and opposing those that present challenges to the industry is a full-time job. Help us advocate for policies that support the industry while fighting those that negatively impact our workers.
 Successes
Working to support and pass the Retainage Bill
Stopping HB2838 (Wage Claim Bill)
Working to pull SB1783, which required prevailing wage on all deliveries
Seeking to combat the negative effect the new property assessment process is having on commercial property investments in Cook County
Help make 2022 a monumental year for the Chicagoland AGC PAC.