Reaching Your Audience with CAGC
Digital & Print Advertising
Let us do the work for you! Choose how Chicagoland AGC markets your business through the following outlets:
Membership Directory and Resource Guide

2023 Annual Magazine Print
Weekly Connection E-Newsletter
Sponsorship Opportunities
Expand your brand message!
Reach new companies by taking advantage of Chicagoland AGC's event sponsorship package options.
With events such as: Constructors Connect, Annual Golf Outing, Spring Summit, Meat Raffle, Summer Social, Bowling Social and more, we offer an abundance of activities to be involved in and broaden your network!
View exclusive event invitations and benefits included within CAGC's Diamond and Platinum sponsorship packages below.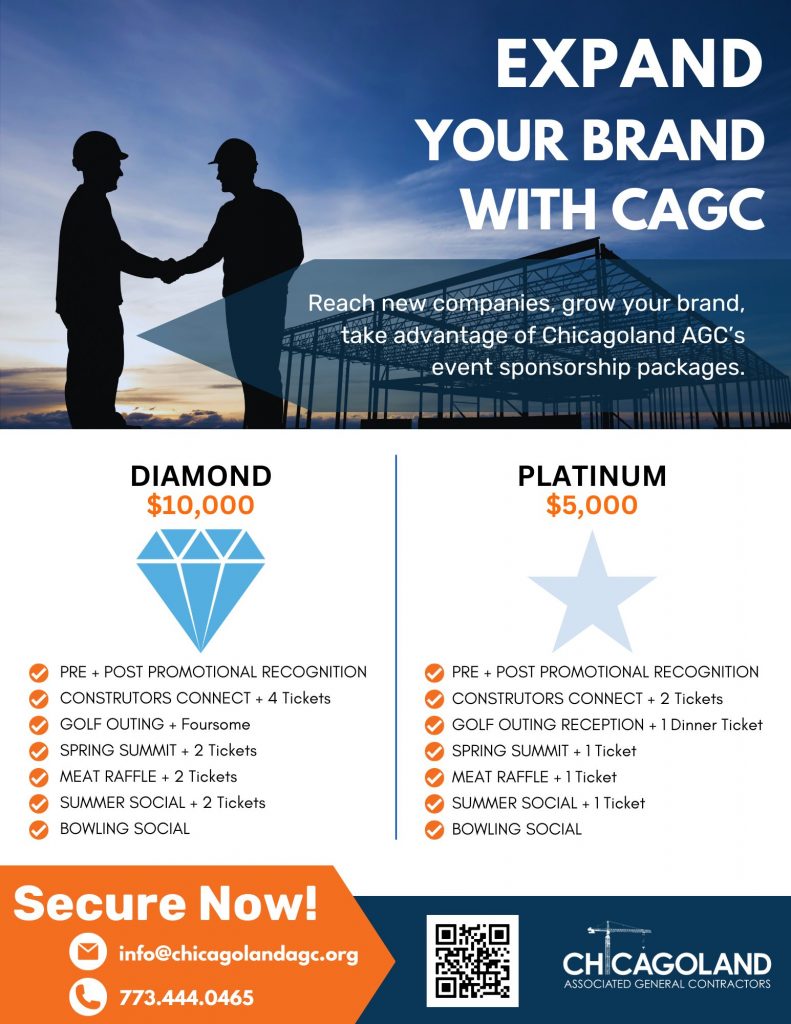 Chicagoland AGC members include a range of large, national firms to smaller, specialized companies who employ over 10,000 individuals and perform more than $12 billion in work annually.
CAGC's website and social media are home to information about education, labor, government and safety, and online publications are distributed to over 1,500 stakeholders and decision-makers regularly.
In addition to Chicagoland AGC's annual publication, CAGC delivers weekly newsletters to nearly 2,000 general contractors, specialty contractors, and industry affiliates.
For details about marketing opportunities and sponsorship availability, click here or email Cailin Briody.
The estimated total dollar amount of work performed by Illinois firms in 2022*
*AGC 2022 Construction Outlook Survey
$50.1 million - $500 million
%